About Cores Worldwide Inc.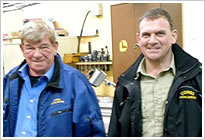 Andrew G. Ryan
Co-Founder of Cores Worldwide Inc. and serves as the Field and Service Manager of the company. Andrew oversees and directs all projects undertaken by CORES, both on location and in the plant.
Specialized in troubleshooting marine systems and engine components for 25 years
Written many technical reports upon completion of projects and has devised methods for removing crankshafts from Mirrlees, ALCO, Wärtsilä-Nohab, Fairbanks Morse, MAK, MAN B&W, Caterpillar main engines and many others
Received factory training on various engine lines and worked alongside and with factory-trained representatives from 9 separate engine lines
Reviewed drawings of projects and revised them to meet the most cost effective and safest approach to complete projects on time
Douglas R. Lesbirel
Co-Founder of Cores Worldwide Inc. and serves as the Business Manager of the company.
Specialized in the marine industry for 30+ years. Involved with rebuilding of large bore diesel engines, design, construction of non-standard marine units, rebuilding marine transmissions and deck machinery
Owner and manager of several companies for 24 years and familiar with Labour Codes, Worker's Compensation and Health & Safety Regulations
Written many technical reports upon completion of projects and written detailed specifications on rebuilding marine diesel engines and related equipment
Specialized in Marine Engine Application Engineering
Cores Worldwide Inc.'s management have a combined experience of 60 years in the large bore marine diesel engine industry. The owners of CORES have worked together for over 20 years. The employees of CORES are highly competent and cover all relevant trades such as; Machinists, Fabricators, Tool Makers, Rigging Specialists, Engine Fitters and Troubleshooters. CORES has a strong relationship with their employees and has an open door policy to facilitate communication. CORES management and employees have completed projects for dozens of private businesses as well as government organizations on the East Coast of Canada and have gained a strong reputation in the business community for their quality of work.