Rebuilding: Large Bore Diesel Engines & Generators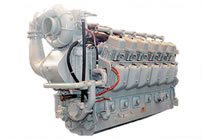 CORES has specialized in the rebuilding of large bore diesel engines for over 14 years. CORES is able to undertake any rebuild on any type of large bore marine diesel engine and has a track record to prove it. CORES is more experienced on a worldwide basis than its competitors and can expedite work crews worldwide to meet customer needs. CORES has worked on engine lines from manufacturers around the world and continues to upgrade their engine training experience. CORES strives to be the leader in the large bore marine diesel industry.
Past Rebuilds:
MAN B&W
Caterpillar
M.A.K.
Deutz
Detroit Diesel
Fairbanks Morse
British Polar – Wärtsilä – NOHAB
EMD
ALCO
Scania
Mirrless National
Stork Werkspoor
Wichmann Diesel
If you want a world-class, large bore diesel engine rebuild choose the experts at CORES.